In the short video below, Bill Murray explains, in an interview with Charlie Rose, how "it all starts with a wish."  Bill has transitioned from a comedic actor to more serious roles including an Oscar nomination but he now feels that it may be time for a comedy role again.  As you watch the video clip, check out Charlie Rose's response to Bill's ability to "wish" and then make it reality…
How it all starts with a wish…
About Bill Murray
Source: www.wikipedia.org (edited for brevity)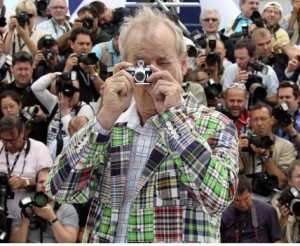 William James "Bill" Murray (born September 21, 1950) is an American actor and comedian. He first gained exposure on Saturday Night Live in which he earned an Emmy Award and later went on to star in various comedy films, including Meatballs (1979), Caddyshack (1980), Ghostbusters (1984), What About Bob? (1991), and Groundhog Day (1993). Murray garnered additional critical acclaim later in his career, starring in Lost in Translation (2003), which earned him an Academy Award nomination for Best Actor, the indie comedy-drama Broken Flowers (2005) and a series of films directed by Wes Anderson, including Rushmore (1998), The Royal Tenenbaums (2001), The Life Aquatic with Steve Zissou (2004), Fantastic Mr. Fox (2009), and Moonrise Kingdom (2012).
Early life
Murray was born and raised in Wilmette, Illinois, a northern suburb of Chicago. He is the son of Lucille (née Collins), a mail room clerk, and Edward Joseph Murray II, a lumber salesman. Murray and his eight siblings were raised in a Catholic Irish American family. Their father died in 1967 from complications of diabetes, when Bill was 17 years old. After graduating high school, Murray attended Regis University in Denver, Colorado, taking pre-medical courses. He quickly dropped out, returning to Illinois. Decades later, in 2007, Regis awarded him an honorary Doctor of Humanities degree.
Career
Second City – With an invitation from his older brother, Brian, Murray got his start at The Second City in Chicago, an improvisational comedy troupe, studying under Del Close. In 1974, he moved to New York City and was recruited by John Belushi as a featured player on The National Lampoon Radio Hour.
Saturday Night Live – In 1975, an Off Broadway version of a Lampoon show led to his first television role as a cast member of the ABC variety show Saturday Night Live with Howard Cosell that featured animal acts and little kids with loud voices. That same season, another variety show titled NBC's Saturday Night premiered. Cosell's show lasted just one season, canceled in early 1976. After working in Los Angeles with the "guerrilla video" commune TVTV on several projects, Murray rose to prominence in 1976. He joined the cast of NBC's Saturday Night Live for the show's second season, following the departure of Chevy Chase. Murray was with SNL for three seasons from 1977–1980.
Film career
Bill Murray landed his first starring role with the film Meatballs in 1979. He followed this up with his portrayal of Hunter S. Thompson in 1980's Where the Buffalo Roam. In the early 1980s, he starred in a string of box-office hits including Caddyshack, Stripes, and Tootsie. Murray became the first guest on NBC's Late Night with David Letterman on February 1, 1982. He would later appear on the first episode of the Late Show with David Letterman in August 1993, when the show moved to CBS. On January 31, 2012 – 30 years after his first appearance with Letterman — Murray appeared again on his talk show.
Murray began work on a film adaptation of the novel The Razor's Edge. The film, which Murray also co-wrote, was his first starring role in a dramatic film. He later agreed to star in Ghostbusters, in a role originally written for John Belushi. This was a deal Murray made with Columbia Pictures in order to gain financing for The Razor's Edge. Ghostbusters became the highest-grossing film of 1984. The Razor's Edge, which was filmed before Ghostbusters but not released until after, was a box-office flop.
Upset over the failure of Razor's Edge, Murray took four years off from acting to study philosophy and history at the Sorbonne, frequent the Cinematheque in Paris, and spend time with his family in their Hudson River Valley home. During that time, his second son, Luke, was born. With the exception of a cameo appearance in the 1986 movie Little Shop of Horrors, he did not make any appearances in films, though he did participate in several public readings in Manhattan organized by playwright/director Timothy Mayer and in a production of Bertolt Brecht's A Man's A Man.
Murray returned to films in 1988 with Scrooged and the sequel Ghostbusters II in 1989. In 1990, Murray made his first and only attempt at directing when he co-directed Quick Change with producer Howard Franklin. His subsequent films What About Bob? (1991) and Groundhog Day (1993) were box-office hits and critically acclaimed.
After a string of films that did not do well with audiences (one of the exceptions being his role in the 1996 comedy Kingpin), he received much critical acclaim for Wes Anderson's Rushmore for which he won Best Supporting Actor awards from the New York Film Critics Circle, National Society of Film Critics, and the Los Angeles Film Critics Association (tying with Billy Bob Thornton). Murray decided to take a turn towards more dramatic roles. Murray then experienced a resurgence in his career as a dramatic actor, taking on roles in Wild Things, Cradle Will Rock, Hamlet (as Polonius), and The Royal Tenenbaums.
In 2003, he appeared in Sofia Coppola's Lost in Translation and went on to earn a Golden Globe Award, a BAFTA Award, and an Independent Spirit Award, as well as Best Actor awards from several film critic organizations. He was considered a favorite to win the Academy Award for Best Actor, but Sean Penn ultimately won the award for his performance in Mystic River. In an interview included on the Lost in Translation DVD, Murray states that this is his favorite movie in which he has appeared. Also in 2003, he appeared in a short cameo for the movie Coffee and Cigarettes, in which he played himself "hiding out" in a local coffee shop.
During this time Murray still appeared in comedic roles such as Charlie's Angels and Osmosis Jones. In 2004, he provided the voice of Garfield in Garfield: The Movie, and again in 2006 for Garfield: A Tail of Two Kitties. (Later, Murray claimed he only took part because he was under the misguided impression the screenplay, co-written by Joel Cohen, was the work of Joel Coen.) In 2004, he made his third collaboration with Wes Anderson in The Life Aquatic with Steve Zissou and also starred in Jim Jarmusch's Broken Flowers.
In 2005, Murray announced that he would take a break from acting as he had not had the time to relax since his new breakthrough in the late 1990s. He did return to the big screen for brief cameos in Wes Anderson's The Darjeeling Limited and in Get Smart as Agent 13, the agent in the tree. In 2008, he played an important role in the post-apocalyptic film City of Ember, and in 2009, played himself in a cameo role in the zombie comedy Zombieland.
Murray provided the voice for the character Mr. Badger for the 2009 animated film Fantastic Mr. Fox. Though there was speculation that he might return to the Ghostbusters franchise for the rumored Ghostbusters 3, he dispelled such speculation in an interview with GQ. In March 2010, Bill Murray appeared on Late Show with David Letterman and talked about his return to Ghostbusters III, stating "I'd do it only if my character was killed off in the first reel". In an interview with GQ, Murray said: "You know, maybe I should just do it. Maybe it'd be fun to do." In the interview, when asked "Is the third Ghostbusters movie happening? What's the story with that?", Bill Murray replied, "It's all a bunch of crock." Despite this comment, later reports by Dan Aykroyd and Stefano Paginini suggest the movie is well under way, and the script has already been approved.
How it all starts with a wish…
About Charlie Rose:
Source: www.wikipedia.org (edited for brevity)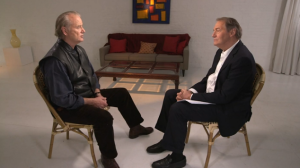 Charles Peete "Charlie" Rose, Jr. (born January 5, 1942) is an American television talk show host and journalist. Since 1991, he has hosted Charlie Rose, an interview show distributed nationally by PBS since 1993. He has also co-anchored CBS This Morning since January 2012. Rose, along with Lara Logan, has hosted the revived CBS classic Person to Person, a news program during which celebrities are interviewed in their homes, originally hosted from 1953 to 1961 by Edward R. Murrow.
Early life
Rose was born in Henderson, North Carolina, the only child of Margaret (née Frazier) and Charles Peete Rose, Sr., tobacco farmers who owned a country store. As a child, Rose lived above his parents' store in Henderson and helped out with the family business from age seven. Rose admitted in a Fresh Dialogues interview that as a child his insatiable curiosity was constantly getting him in trouble. A high school basketball star, Rose entered Duke University intending to pursue a degree with a pre-med track, but an internship in the office of Democratic North Carolina Senator B. Everett Jordan got him interested in politics. Rose graduated in 1964 with a bachelor's degree in history. At Duke, he was a member of the Kappa Alpha Order fraternity. He earned a Juris Doctor from the Duke University School of Law in 1968. He met his wife, Mary (King), while attending Duke.
Career
After his wife was hired by the BBC (in New York), Rose handled some assignments for the BBC on a freelance basis. In 1972, while continuing to work at Bankers Trust, he landed a job as a weekend reporter for WPIX-TV. His break came in 1974, after Bill Moyers hired Rose as managing editor for the PBS series Bill Moyers' International Report. In 1975, Moyers named Rose executive producer of Bill Moyers Journal. Rose soon began appearing on camera. "A Conversation with Jimmy Carter", one installment of Moyers's series U.S.A.: People and Politics, won a 1976 Peabody Award. Rose worked at several networks honing his interview skills until KXAS-TV in Dallas-Fort Worth hired him as program manager and gave him the late-night time slot that would become the Charlie Rose show.
Rose worked for CBS News (1984–1990) as the anchor of CBS News Nightwatch, the network's first late-night news broadcast, which typically featured Rose conducting one-on-one interviews with notable persons, in a similar format to his current PBS show. The Nightwatch broadcast of Rose's interview with Charles Manson won an Emmy Award in 1987. In 1990, Rose left CBS to serve as anchor of Personalities, a syndicated program produced by Fox Broadcasting Company, but he got out of his contract after six weeks because of the tabloid-style content of the show. Charlie Rose premiered on PBS station Thirteen/WNET on September 30, 1991, and has been nationally syndicated since January 1993. In 1994, Rose moved the show to a studio owned by Bloomberg Television, which allowed for improved satellite interviewing.
Rose was a correspondent for 60 Minutes II from its inception in January 1999 until its cancellation in September 2005, and was later named a correspondent on 60 Minutes. On November 15, 2011, it was announced that Rose would return to CBS to help anchor CBS This Morning, replacing The Early Show, commencing January 9, 2012, along with co-anchors Norah O'Donnell and Gayle King.
Rose has interviewed many celebrities, such as Bashar al-Assad (2013), president Barack Obama and wife Michelle (2012), Warren Buffet, Noam Chomsky (2003), Leonardo di Caprio (2004), John Oliver, Christoph Waltz, Quentin Tarantino, Larry Ellison, and Farah Diba.
Cameo appearances
Rose has appeared as himself in the film Primary Colors (1998), in a 2000 episode of The Simpsons and in the film Elegy (2008). He and his show were parodied in the Wes Anderson film The Royal Tenenbaums (2001). He appears as himself in the George Clooney-directed film The Ides of March (2011), as well as in episodes of The Good Wife and Breaking Bad, both in 2013.
Influence
The New York Times reported that Rose encouraged a discussion between the leaders of NBC and Fox that led eventually to a mutual reduction in ad hominem attacks between Keith Olbermann and Bill O'Reilly on their respective news programs.
Rose has attended several Bilderberg Group conference meetings, including meetings held in the United States in 2008,[19] Spain in 2010,[20] and Switzerland in 2011.
In a 2009 Fresh Dialogues interview, Rose described his life as "great and glorious". He added, "I get up every morning with a new adventure. The adventure is fueled by interesting people. I get a chance to control my own destiny. I do something that is immediately either appreciated or not. I get feedback."
Personal 
Rose owns a house in Henderson, North Carolina, a 575-acre farm in Oxford, North Carolina, an apartment overlooking Central Park in New York City, a beach house in Bellport, New York, an apartment in Washington, D.C., and an apartment in Paris, France.
Special Thanks to the person who uploaded the video above to YouTube!
When are you going to realize that "everything starts with a wish"? What would you wish for in your life?